There's nothing like a slice of hot toasted bread with melted butter to accompany your breakfast. Not all toasters are created equal though.
What makes a good toaster?
The essential features are that it toasts the bread evenly and is easy to use and clean. Some of the more advanced ones allow you to have a peek at how your toast is doing without interrupting the process or a special "bagel" function.
The Toaster Zoom in
We went through the toasters that have been tested by experts at CHOICE, then the reviews at productreview.com.au and Canstar to discover which toasters are most loved by Aussies.
The convenience and the ease of use were the essential criteria on which we based the quality of the toasters. We included a variety of sizes, budgets and features to suit your bread-toasting needs.
The 8 Best Toasters in Australia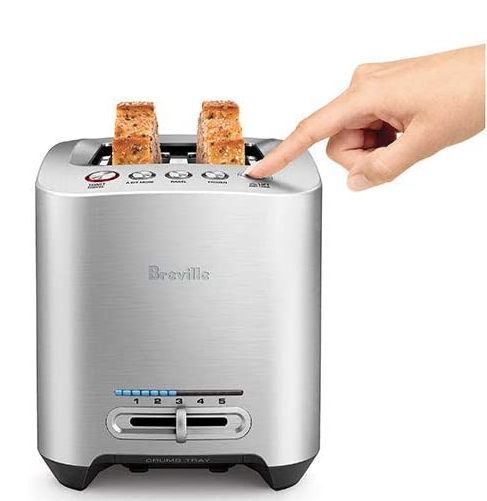 Our Winner – Breville Smart Toast
Our Winner – Breville Smart Toast
If a piece of perfectly toasted bread is your guilty pleasure, Breville Smart Toast might be for you. At $200 being the recommended price, it is a bit of an investment but over 200 customer reviews agree that it is worth every penny.
What are the features that make this toaster worth the money?
Compatibility
With its wide and long slots, it is compatible with various kinds of bread, from the classic sourdough to crumpets, pastries, bagels or thick fruit bread.
The four-slice capacity makes it a great option for your household and the self-centring feature makes sure that the bread is browned evenly.
Ticks All the Essential Boxes
With this advanced toaster, the essential features such as a removable crumb tray at the front, dual independent controls, sliding toasting scale or 1-touch lowering are a must.
Advanced Settings
This toaster is for those who like attention to detail. The 5 varied settings include the basic function like "Defrost" but also more specific instructions such as "A Bit More" for when you want your toast a little bit browner or "Lift And Look" for when you want to check on how your toast is doing, without interrupting the cycle.
Breville Toaster also looks beyond the classic sourdough and offers a "Bagel" or "Fruit Bread" settings to avoid a burned disappointment.
Further, it also raises the toast gently and slowly, with a beep replacing the classic noisy toast popping sound.
Pleasing Design
This toaster has a pleasant look that will not ruin your kitchen bench. It is the productreview.com.au's most popular toaster and the best option for anyone serious about their morning toast.
Negatives to Keep in Mind
One of the few negatives that will make you think twice before buying this toaster, is the high 200 dollar price tag. You would expect a toaster at that price to have a longer than 2-year warranty.
Some of the customers also complain about the fact that the toaster is too quiet. Without the classic toast-popping sound, it's hard to notice when the toast is done.
Our Second Best Choice – Sunbeam Long Slot Toaster TA4520
If you're looking for a good-quality toaster, but you're not keen on spending $200 on it, the Sunbeam Long Slot Toaster TA4520 for $50 RRP might be for you.
As the name suggests, the long slots allow for different kinds of bread such as ciabatta or artisan sourdough. The slots are self-centring, so you don't have to worry about uneven browning.
It has the usual essential features such as the easy-clean crumb tray, an option to choose your toasting level and reheat and defrost functions.
The features go even further with an advanced "QuickCheck" setting that allows you to check on your toast without the need to interrupt the process and high lift lever that helps to get smaller things, like crumpets, out with ease.
This affordable toaster is Canstar Blue's 6th most popular toaster brand and can be proud of 4-star overall customer satisfaction. The price makes it especially inviting and even though it's pretty simple, it still packs some better features that you wouldn't expect from a budget-friendly toaster.
Negatives to Keep in Mind
Even though the reviews are positive, the amount is quite limited so it's still hard to judge its quality. With its 12-month warranty, the longevity of this toaster is not as certain as it could be but with its low cost, it's probably not a reason to complain.
The Rest from the Best
The toasters that didn't make the cut to our best ones but are still worth looking at, if you're searching for something different than our two top picks.
Kambrook The Smarter Choice KTA120
The Kambrook The Smarter Choice KTA120 is great for those, for whom the price is the most important factor when choosing a toaster. At $29, it is our most affordable toaster from the list.
It packs some good features such as 7-browning option dial, removable crumb tray, extra lift lever, wide slots and reheat and defrost functions. The compromise for the low price is the absence of long slots and QuickCheck setting.
It is ideal for small kitchen space and even though the reviews are limited, they are pretty good. It is simple and easy to use so it's a great budget-friendly option.
Smeg TSF02
With its unique 50s styling typical for this brand, the Smeg TSF02 toaster is ideal for those for who prioritise design.
The classic toaster features include 2 long and wide slots, a crumb tray making it easy to clean, 6 browning levels, push down lever and the reheat and defrost settings with an additional setting for bagels.
The stylish look is accompanied with details such as backlit buttons and an offering of different colours. Priced at $199 and a 2-year warranty, it is a price to pay for those who view the design as their top priority.
Kenwood K-Sense TCM400
Kenwood K-Sense TCM400 is another option for those looking for a retro-styled toaster. It features 4 slots, has 5 levels of toastiness, a "defrost" setting, bread lift for getting the small pieces out and an essential crumb tray.
It also features some advanced settings such as a preview function that doesn't interrupt the cycle, eco mode that allows for 1-sided toasting and a bagel function.
It comes in a range of 4 pastel colours and priced at $169 it gives your kitchen a retro look while not compromising on the good features.
Dualit New Gen
For those who are looking for the best toaster that can be found, regardless of the price, there is Dualit New Gen. The UK handcrafted and winning multiple design awards, at RRP $400 it is the most expensive toaster from the list.
It is energy efficient and while it features 4 wide slots, by turning only the ones that you are using, it prevents wasting energy. The crumb tray and replaceable parts alongside with "virtually unbreakable" armour-plated ProHeat elements, it is built for commercial use.
The design of this high-end brand is beautiful and Dualit goes the extra mile with the colours as well, including sophisticated ones such as mint green, limestone, or lavender-blue, offering the matching kettles too.
It has an average 4-star review on productreview.com.au and with a 5-year warranty, it's expected to last. An excellent option for those who value design and style over the price tag.
Sunbeam Cafe Series
Sunbeam Cafe Series toaster meets the expectations set by its name and with extra thick and wide slots, that allow for thicker and bigger cafe-style bread. The slots are self-centring which means the bread will be toasted to perfection.
It features 6 browning options, a crumb tray, a crumpet setting and a high-lift lever. Together with a 5-year warranty and over 100 satisfied customer reviews, priced at $193, it promises to be a worthwhile investment.
DeLonghi Brilliante CTJ4003
DeLonghi is the 4th most popular toaster brand according to Canstar Blue's rating. DeLonghi Brilliante CTJ4003 is a 4 slice toaster with a unique faceted surface that will surely capture anyone's attention.
It has all the expected features such as 2 removable crumb trays for easy cleaning, wide slots that allow independent heating, 5 level browning, extra-lift position to remove smaller slices,  and reheat and defrost settings.
Alongside the interesting design, all the buttons come with a neon indicator and at $129 it is a statement piece that is more affordable than some of its competitors that focus on the look.
Factors to Consider Before You Buy
The toasters can come in a different range of prices and functions. The choice depends on what aspect is your biggest priority. We will have a look at some of the key features to focus on before buying a new toaster.
Basic Features
Number of Slots
The number of slots is important to consider and will be a deciding factor if you have a family or a bigger household and don't feel like waiting in a breakfast queue for your toast.
Keep in mind, however, that the 4-slot toasters are bigger and not a great idea if your kitchen space is limited. If buying a 4-slot toaster, consider looking for an eco-saving one in order to avoid wasting energy.
Ease of Use
Most of the toasters nowadays are easy to use with buttons indicating and performing different functions. Our winner, the Breville Smart Toast, takes this to the next level and offers interesting functions such as "A Bit More". The setting you didn't know you needed.
Defrost and Reheat 
These are the basic functions that even the cheapest toaster has. They ensure that you can easily toast your bread straight from the freezer as well as reheat it within a click of a button.
Crumb Tray
This is an essential feature that makes the toaster easy to clean and allows hassle-free maintenance.
Slot Length and Width
Depending on what kind of bread you typically use your toaster for, you should look at the length and width of the slots, since these will determine whether you can toast a cafe-style banana bread or ciabatta in it too.
Advanced Features
Some of the advanced features that are not essential but with better toaster, improve the experience and solve all the small problems that might arise during the toasting process.
The LED progress indicator shows you the progress of your toasting and is ideal for those who don't like surprises when their toast finally pops up.
The high lift lever allows you to easily take out smaller pieces of bread or crumpets without burning your fingers or fishing for the piece with a knife.
Motorised lift feature raises the finished toast slowly and with a gentle beep instead of the aggressive toaster pop. Only the winning toaster from our list has this feature.
Additional settings for different kinds of bread such as a bagel or raisin bread ensure each type of bread receives the correct treatment and prevents burning.
Preview feature lets you check on your bread without interrupting the toasting process and having to start it all over again.
When it comes to bigger toasters with 4 slots, some feature dual controls and allow for different levels of toastiness across the slots.
The design is the other determining factor, especially for those who care about how this device will look in their kitchen. It is a feature that you'll need to be ready to pay extra for.
The Verdict
A great toaster can produce an evenly toasted bread, is easy to use and clean. We think that Breville Smart Toast is Australia's best toaster. With both essential and more advanced features such as 'Raisin bread', 'Bagel', 'Lift and Look' or 'A Bit More', it provides a great toasting experience and will be a good investment for those who use a toaster every day.
A more budget-friendly option that still provides the key settings like QuickCheck and is compatible with different types of bread, at RRP $50, Sunbeam Long Slot Toaster is a no-brainer.
Whichever toaster you decide to choose, base your decision on the factors that are most crucial to you, such as design, capacity or versatility.