It's no secret that across the globe, air quality is continuing to fall, even in some of the cleanest and most eco-focused cities like Australia's Melbourne and Sydney. There are increases in pollution from bushfires, exhaust fumes, construction booms and much more.
Not only does this impact the quality of life outdoors, but it also affects mental health, motivation and increases the likelihood of developing lung diseases. 
Thankfully, there have been leaps and bounds in the development and miniaturisation of air purifiers which means that these devices are smaller, quieter, more aesthetically pleasing and more useful than ever before. 
All of that said, if you've taken a look online, you're bound to have come across hundreds, if not thousands, of air purifiers, making it hard to choose the right one. And that's where we come in, we've searched the web, consumer reviews and assessed air filter feature sets to find the best air purifiers available today. 
Take a look at the two best air purifiers we've found below. 
TL;DR Summary
If you're here for the best of the best, then we've outlined our two top choices below. The options below are the perfect blend of budget-friendly, effectivity and great design.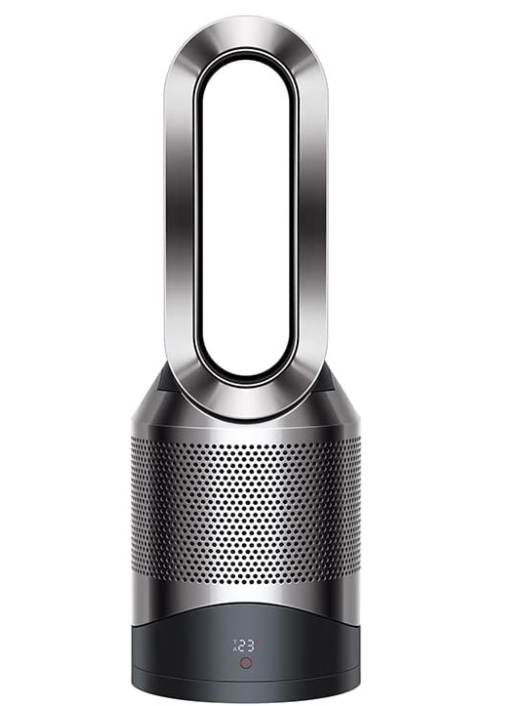 Dyson Pure Hot+Cool Link [Recommended]
A standout in design, the Dyson Pure Hot+Cool Link is the ideal purifier if you're looking for a device that heats and cools the air as well as filters it at the same time. Standing on a 350º swivel and with an air purification capacity of 290L per second, the Dyson Pure Hot+Cool Link will have your home's air crisp, clean and smelling fresh. 
Top Features
HEPA Filter
Activated Carbon Filter
LCD Screen for Live Stats
Heating and Cooling Features
Get This One If… warranty and design mean a lot to you and you're happy to pay just a little more than the competition. 
Ausclimate Winix Ultimate
A great all-rounder for Aussies looking for an affordable, efficient and intelligent air filtering system, the Ausclimate Winix Ultimate is a fantastic top choice. The filter comes with a 5-stage air filtration system which ensures no sneaky particles get through, keeping the air in your home as clean as possible. The Winix Ultimate also includes a pre-filter, which means you can expect extended lifespans from your HEPA filter. 
Top Features
5-Stage Air Filter
Medical-grade HEPA Filter
Odour Neutralisation 
Get This One If… you're likely to leave your air purifier running at all times, want an affordable option and aren't too concerned with the aesthetics of the machine. 
Our Selection and Review Process
For our in-depth and real-world reviews, we don't just rely on manufacturing claims and short-term testing in our own homes or offices; we consider the experiences of Aussies and netizens too. It's vital for us to see just how customer's products operate, what flaws there may be and just how long the air purifiers last before we can make a recommendation to our readers, especially for health-oriented products.
All of our reviews, recommendations and suggestions below are based off some of Australia's biggest product review websites along with a tonne of customer feedback and our own testing. That said, we're confident that any of the suggestions we make for the best air purifier available in Australia will be fantastic for all consumers. 
To make sure that no poorly designed or unreliable air purifiers land on our list, we avoided poorly rated models altogether and focused just on the leaders that customers seemed to love. From there, we vetted all of these models and pitted them against one another to find a genuine leader in air purification when it comes to design, value, effectiveness and longevity. 
With all of that said, take a look below at our top choice air purifiers, the features we liked the most and consider one of these models for use in your home. 
The Best Air Purifiers Overall
Our Top Choice — Dyson Pure Hot+Cool Link
Our Runner-up — Ausclimate Winix Ultimate
Other Fantastic Models: 
InovaAir AirClean E20 Plus
Salin Plus Salt Therapy Device
Ausclimate Winix 4 Stage AUS-5500
Breville's Smart Air Plus™ Purifier
Philips Series 1000 Air Purifier
The Dyson Pure Hot+Cool Link
Topping our list is Dyson's Pure Hot+Cool Link air purifier which is jam-packed with advanced technology and can offer a lot more to customers than just being an air purifier. The purifier is one of the quietest on the market and has an entirely sealed purification system which prevents any cross-contamination of air inside or outside of the filter. 
The Pure Hot+Cold Link comes with a dual-stage filter system along with glass HEPA filter, keeping excellent design a top priority for those who'd like that trait in their air purifier. There's also a fantastic insightful LCD screen which goes myopically in-depth about the quality of your air at home. All particles, gasses and other relevant data are displayed here for a full look into your home's air quality. 
To add, the Dyson Pure Hot+Cool Link also comes with a full-auto mode for those who'd like a reliable air filter they can set, and forget. 
A significant standout feature of this Dyson purifier, especially when you consider its size, is the 290L per second air purification capacity. That's more than most available on the market, even some of the larger models. 
A 350º oscillating bladeless fan also ensures that entire rooms are evenly cooled, heated and have filtered air. Another perk is the night-time setting which decreases noise to a minimum and minimises display brightness, so you're able to sleep without switching off the purifier. 
Standout Features
Controlled Via Smartphone App
Detailed Real-time Air Metrics
Hot and Cold Settings
Fantastic Design
Bladeless Operation
Price and Stats
The Dyson Pure Hot+Cool Link comes in at $799, comparatively more affordable than similar feature-filled purifiers. A 2-year warranty also adds value to the price, and with outstanding reviews across the board, it's an ideal companion for all Aussie homes. 
Ausclimate Winix Ultimate
If you're looking for an intense air purification process, the Ausclimate Winix Ultimate is for you. The purifier comes with a 5-stage filtration process, which is one of the most thorough on our list, keeping the air in your home as clean as possible. The Winix also features an easily washable set of filters and pre-filters that make sure you're able to keep any nasties out of the machine after long periods of use. 
The included pre-filter in the Ausclimate Winix Ultimate is made of anti-bacterial fibre and makes sure that any airborne impurities are neutralised entirely before they even reach the HEPA filter or five-stage purifier. That said, there are not too many other consumer-grade purifiers that come close to the Ausclimate Winix Ultimate when medical-grade air purification is concerned. 
To add, the Winix features an activated carbon filter, anti-bacterial mesh shield, HEPA filter as well as proprietary PlasmaWave tech which essentially "attacks pollutants at a molecular level to neutralise viruses, bacteria, chemical vapours and harmful gases without producing harmful ozone" according to Ausclimate. 
Expect that 99.97% of all harmful pollutants either remain trapped inside this purifier, or are entirely neutralised before being ejected back into the air in the home. The 0.3-micron mesh filters also make sure that just about nothing makes it back into the house. 
Standout Features
Comprehensive Auto-mode 
Timers for 1, 4 and 8 Hours
Odour Sensors for Complete Removal of Smells
Automatic Night Mode
Price and Stats
The Ausclimate Winix Ultimate comes in at $700 and has a great 2-year warranty that makes sure you're covered for any issues. Reviews from consumers pit the Winix against the leaders in the field, though a small 26m2 purification coverage area isn't ideal for larger rooms. 
InovaAir AirClean E20 Plus
Our premier choice for homeowners who'd like to go all-out on the best of the best is the InovaAir AirClean E20 Plus. It's a little, or rather a lot, more expensive than most but with a medical-grade filtration system and an absolutely enormous 6KG carbon filter, there's not much better than this purifier. 
You're going to be able to comfortably purify rooms up to 100m2 with the AirClean E20 Plus, which is fantastic if you have a larger living room or an open-plan foyer space you'd like to keep free of any unwanted impurities. 
The filters inside of the AirClean E20 Plus are expected to last between 3 and 5 years, which is comparatively exceptional when you consider some of the competition's shorter use rated filters. 
One thing to keep in mind with this air purifier is that it's more of a 'leave it alone' type of system which means you'll only be able to adjust the fan speed — that's it. The model has been designed from the ground up to offer the most comprehensive filtration process, which means you won't be able to change much. 
Standout Features
Massive 6KG Activated Carbon Filter 
Rooms up to 100m2 Supported
Long-lasting HEPA Filter
Includes Wheels for Easy Movement
Price and Stats
The InovaAir AirClean E20 Plus comes in at $1,595.00, putting it firmly at the higher end, though for the highest quality air, this may be your best bet. At this price, you'll also get a 5-year parts warranty and a 10-year warranty on the housing. Consumer reviews also put the AirClean E20 Plus toward the very top of the market. 
Salin Plus Salt Therapy Device
Coming down to the most affordable air filter on the list, the Salin Plus Salt Therapy Device is an ideal option for consumers who would like the bare essentials, and not too much else. With the Salin Plus Salt Therapy Device, you'll find a microcrystalline filter which stands in place of a HEPA filter and captures most of the common air pollutants you'll find in the home. 
A unique feature of the microcrystalline filter comes in the form of saline particles that are ejected into the air as the filtration occurs. Following air being pulled into the filter, salt particles are then sprayed into the air, which may have a positive effect on respiratory health, though there's not yet any science to back this claim up. 
There's quite a big coverage area offered by the Salt Therapy Device at up to 150m2, making it a good option for those who'd like to place the filter in larger rooms and have the entire room scrubbed of impurities. 
Finally, as the Salin Plus Salt Therapy Device isn't an official HEPA-capable device, you'll not see the deep air cleaning found in other models on this list. You will also need to make sure that filters in the machine are replaced at least every 4 to 6 months, or you'll run the risk of emitting poor quality air back into your home. 
Standout Features
Quiet Operation at 40dB 
Simple User Experience
Adjustable Fan Speed
Price and Stats 
The Salin Plus Salt Therapy Device comes in at just $199, which makes it incredibly affordable against the competition. However, it's important to note that filters are $55 and need to be replaced often. Warranty is included for replacement parts for a year, and a 60-day money-back option is available. 
Ausclimate Winix 4 Stage AUS-5500
The more affordable alternative to the aforementioned Ausclimate Winix Ultimate is the Ausclimate Winix 4 Stage AUS-5500 which comes with a different purification process and one fewer filter. The model still features the PlasmaWave tech along with the pre-filter system so that you won't miss out on too much.
The model comes with an odour-filtering mesh, and the same excellent filtration process, which means purifying the air in any room of the home is going to be thorough and straightforward. 
You'll find a display on the Winix 4 Stage AUS-5500 outlining the details of the air in the home, as well as the trusted and quiet sleep mode settings to keep the device running through the night. 
One area where this model outshines its more powerful sibling is in-room coverage, with larger 33m2 rooms supported, compared to the smaller 26m2. This is likely down to the higher air projection from the smaller 4-stage system, however, there shouldn't be too much of a difference in air quality even if the anti-bacterial mesh is missing. 
Standout Features
4 Fan Speeds
Great Room Coverage at 33m2
Sleep Mode Supported
Auto-mode for Easy Use
Detailed Air Quality Display 
Price and Stats
Coming in at $100 cheaper than the Winix Ultimate, the Winix 4 Stage is $600 with sale prices often hitting below $450. There is a 2-year warranty available, and fantastic consumer reviews should calm your purchase anxiety of this great air purifier. 
Breville's Smart Air Plus™ Purifier
Another option for the design-focused air purifier customer, the Smart Air Plus Purifier by Breville is a fantastic option. The minimal cylindrical design is ideal for placement in small spaces and with all filtration and air intake happening around the bottom of the air purifier, you're able to place it just about anywhere in the house. 
The filter boasts a 4-stage HEPA filter with an advertised 99.97% particle reduction, which includes bush fire smoke, odours and more. This Breville model also features direct smoke detectors and has a Microbe Shield™ light which neutralises viruses and bacteria too, keeping your home's air as clean as possible. 
An informative LCD display also includes a tonne of easy-to-read information on the quality of air in your home and gives alerts when its time to change filters. 
Unlike other 350º and 360º air purifiers, the Breville's cylindrical design means that there's 360º coverage even though the filter stays in a static position. That said, it's an ideal air purifier to stand in the centre of a room or by a coffee table as there's going to be full-room coverage no matter what. 
Standout Features 
Real-time Air Purity Stats
Adaptable Filtration Strength Based on Air Quality
4-stage Filter with Anti-bacterial and Anti-viral Tech
Micro-particle Monitorings
Up to 80m2 Capacity
Great Design
Price and Stats
At a $539 price point, the Smart Air Plus™ Purifier is an affordable, capable and an excellent option for almost all budgets. A 2-year warranty ensures you're getting what you pay for and the fantastic reviews do the purifier justice. 
Philips Series 1000 Air Purifier
For a purifier that ticks all the boxes and comes in at an affordable price, the Philips Series 1000 Air Purifier should be on your list. The purifier comes with a tonne of advanced and proprietary tech to keep impurities at bay, such as the VItaShield IPS technology which locks everything below 20nm in the filter. 
You'll also find the NanoProtect HEPA filter in the Series 1000 is capable of trapping 99.97% of 0.3μm particles, ideal for clearing the air of particles which may trigger asthma attacks.
The air purifier has also been designed around being compact for its feature set, and that means it's quiet and portable. Homeowners will also be glad to know that the tall, flat rectangular shape makes the Series 1000 Air Purifier sit flush against most walls and furniture pieces. 
There's also an Auto-pollution mode which detects the types of pollution and adjusts purification based on these metrics. This may come in handy during bushfire and hay fever seasons as the purifier can adapt and improve efficiency on the fly. 
Standout Features 
Cigarette Smoke Removal up to 270m2
Quiet Operation at 33dB
Coverage up to 63m2 
Colour-coded Purity Display
Price and Stats
At $329 the Phillips Series 1000 Air Purifier is one of the most affordable HEPA-supported air purifiers on the market. The device comes with a 2-year warranty and a tonne of 5-star reviews from users across Australia. 
Why Consider an Air Purifier
As you might expect, air purifiers are essentially the most direct and efficient way to clean impurities from the air in your home. In a time when air pollution from vehicle emissions, bushfires and construction materials are making their way further and further into our homes, it's essential to keep your lungs, and general health safeguarded. 
Not only does poor air quality affect sleep, but may also hinder development in children, increase stress and can even affect pregnancy. 
When you choose an air purifier with a HEPA filter or a High-Efficiency Particulate Air Filter, you're able to rest assured that almost all minute, impure particles in the air are being stripped out. That means everything from mould spores, exhaust fumes, cigarette smoke, pollen, dust and more are all pulled from your home's air, and you're left with a clean and more comfortable space. 
You might be wondering why you can't simply shut your windows and be done with poor air, and the main reason is that very few homes in Australia are airtight. That said, there's almost always going to be some form of air impurity making way into your home. Even with our windows and doors closed, a bush fire, highway or building site will add a number of toxins and vapours into the air in our homes, so it's always best to do everything you can to take care of these. 
In all, an air purifier is an excellent investment for your overall health and from studies, may even reduce headaches, improve focus and much more. 
Primary Considerations in an Air Purifier
If you're going out on your own to choose an air purifier, there are just a few things to keep in mind. 
HEPA Filter
Unless there's an outstanding proprietary alternative, a HEPA filter is a must-have in all air purifiers in the home. These filters are going to be the primary barrier between your home and all the nasties in the air. A HEPA filter essentially captures all of the smaller, more damaging particles in the air and without one, a lot of these may continue to circulate through your purifier. 
Night-mode Option 
Although not particularly vital to the operation of your purifier, it's an ideal feature to have if you'd like to keep your air clean at all times. If a purifier is too loud, you're likely going to want to turn it off at night and be letting potentially harmful particles make their way back into your home and reversing the effects of having clean air. 
Filter Replacement Notifications
A third ideal feature you should look for in an air purifier is a replacement notification or indicator for filters. The cleaner your particle screen, the better your purifier will operate, and unless you're continually checking the filter manually, you won't know when it's time to change the filter, so an alert light or notification is a must. 
Remote Control Support or an App
Lastly, it's going to be a godsend to have an air purifier connected by a smartphone or a remote, so you're able to control it from other parts of the house, or when you're at work and want to come home to a house with purified air. 
The Takeaway
All in all, when it comes to finding the best air purifier, you're going to want to choose a model that suits your budget and has some features that will make you want to keep it running at all times. 
It's always best to invest in a model that you like the look of, want to use and are going to keep on for as much of the day as possible. If you purchase a purifier you don't like to show off, or would instead use only for a few hours because of its noise, it's virtually not worth having.
We suggest the Dyson Pure Hot+Cool Link if you're looking for a great all-rounder that also includes climate control. However, all of the options on our list are fantastic options if you're looking for an air purifier that's going to keep the air nice and clean in your home.