As the winter months are approaching many Australian homes are starting to think about heating for the house. Electric heating, which includes portable heaters, is one of the most common ones, proved with the fact that almost 45% of Australian families use a heater for a period between three to six months. Portable heaters are an excellent way of heating primarily small spaces, but specific models can also be efficient in heating larger rooms.
If you are looking for an efficient portable heater for the forthcoming season, you came to the right place as this article discusses the top five models sold on the Australian market as well as what are the crucial things to take into account to make the right decision.
Best Overall: Noirot 2000W Panel Heater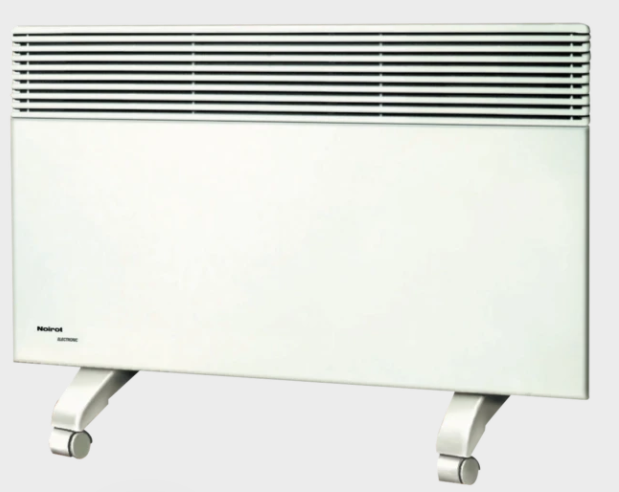 BEST FOR LARGE SPACES: Noirot 2000W Panel Heater 
This French brand combines European style with the state of the art technology in creating this panel heater. It utilizes natural convection heating without using a fan which makes it a silent heater and an excellent option for people who suffer from allergies and asthma. Besides, Noirot integrates the patented Monobloc element for heating. There is an integrated timer that provides an accuracy of high-level and operation that is user-friendly. The heater is designed for larger spaces, and it is efficient due to heat circulation that flows and manages significantly to heat evenly spacious rooms with high ceilings. The thermostat is precise and manages efficiently to maintain the desired temperature. This prevents overheating and waste of energy. The heater also has safety features as part of the thermostat, and there are also childproof settings which include locking of the parameters. For greater convenience, there is a backlit display, and the timer can be programmed with memory retention and ability to save programs indefinitely. It can be freestanding, but it can also be installed on the wall as an alternative.
Also, this device comes with an impressive lifetime warranty.
Pros
Lifetime warranty
Great design
Efficient for large spaces
Childproof Settings
Thermostat and timer with high-level accuracy
Great design and easy to use programming.
Cons
Some example photos from the unit –
As you can see the buttons are easy to use.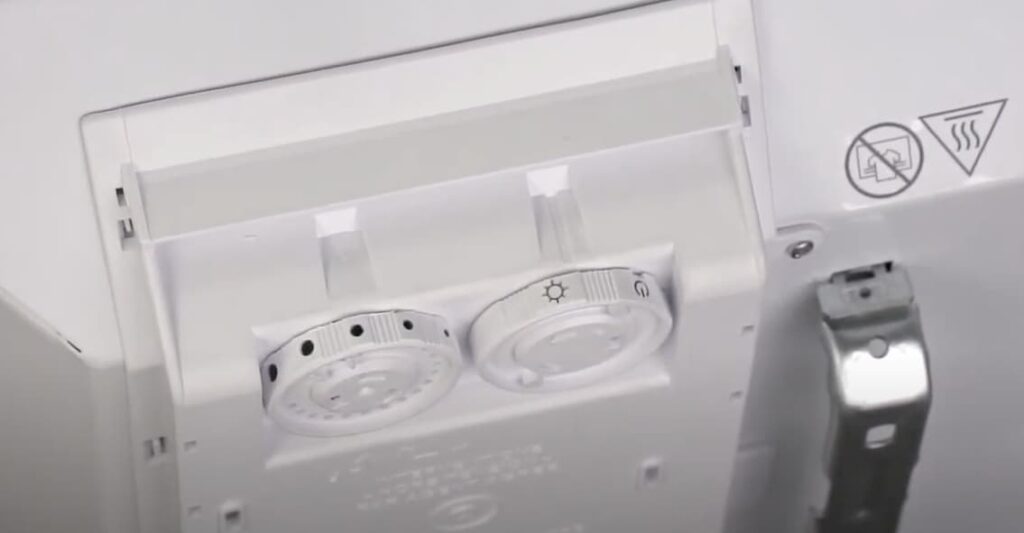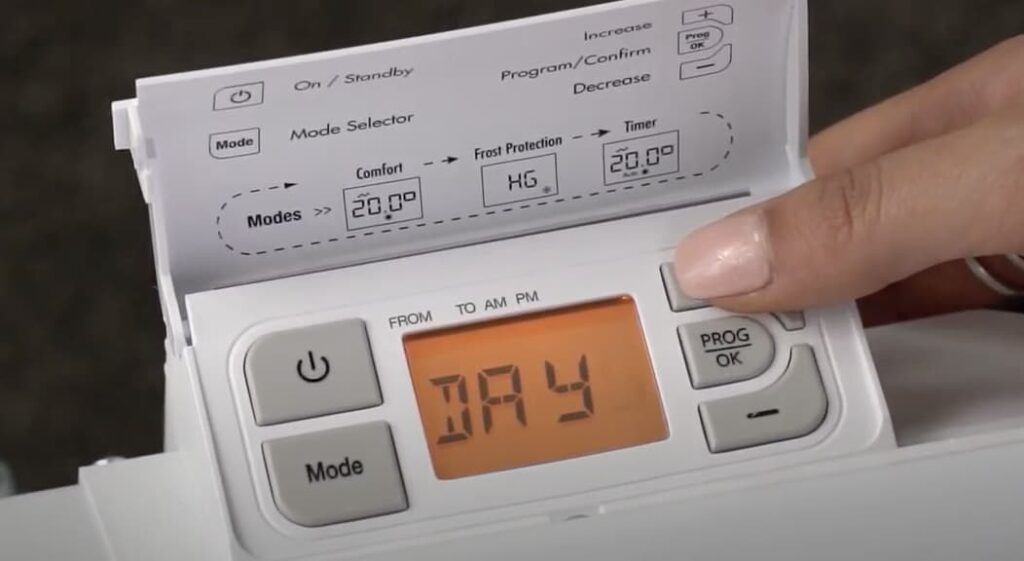 Looking for another option –
Best for Minimalist Design and Silent Mode of Operation: Nobo 2000W Panel Heater NTL4S20-FS40
Nobo products are made in the United Kingdom. This portable panel comes with a simple but elegant design that offers at the same time great functionality. It is slim, and if you wish, there is an option for the heater to be mounted on the wall. If you decide to move the unit from one room to other for example, then you can attach the included castors, so they do not obstruct you in the process of moving the device.
One of the best things for this heater, besides the aesthetics, is that it operates quietly and there is no intrusive noise. We can recommend it for bedrooms, living rooms and even bathrooms with size up to 20m2. The maximum temperature that can be achieved is 30 °C.
The technology that is fan-free prevents allergens and dust and improve the air quality in the rooms. Additionally, if you have a child in the family, this heater can also be a great choice as there is a lockable control panel that is childproof. The heater also switches off in case of falling over or excessive temperature. Customers praise the Nobo panel for the ability to warm up the rooms and save on electricity bills. Castors and wall mount kit are included in the package.
A limited lifetime warranty covers this product.
Pros
Lifetime warranty
Fan-free technology
Silent mode
Approved for use in bathrooms
Energy efficient
This De'Longhi Panel Heater is our first choice because it provides rapid and immediate but even heating up of spaces sized up to 60m3. The heater can be freestanding but also there is an option for wall-mounting with included brackets in the package. It has a dual fan system with Hi-Fi Technology, and this combined with the settings for three degrees of heat enables increased convector's performance.
You can enjoy the chilly winter nights with this portable heater that offers not only warmth and comfort in your home but also adds to the elegance of it with its sleek, modern and slim design with 7.5 cm thickness. You can easily set and adjust the desired temperature and the heat settings with the manual timer with just one switch of the knobs. For increased safety, there is a Sicura System that turns off the device in case it falls over. Also, there is a timer that has a 24-hour delay to set and manage the operating time. Its practicality is also supported by cord storage and handles so if you would like to move it to the other side of the room you just simply have to grab it for the handles.
This device is covered with seven years of warranty.
Pros 
Slim and elegant design
Automatic switch-off
Double fan for even heating of the space
Seven years warranty
Fast heating of the space
Carry handles and cord storage
Cons 
A double fan can use more electricity.
Best Quick Heat: Dyson Pure Hot+Cool Purifying Fan Heater White HP04WS
This versatile fan heater is excellent for both heating and cooling. It has integrated HEPA filters that purify the air in the premises where they are located and in this way they ensure removal of the harmful pollutants and particles from the air. In the winter periods, the heater due to oscillation option can be adjusted to increase the circulation of the air, and it has a long-range projection of the heat. During the night, you can benefit from the specific function developed for this, which is a night mode that enables silent operation that will not disturb the sleeping. Additionally, the cooling option comes as an extra feature, so this heater can be used during all seasons, and in the summer, you can enjoy the refreshing breeze. The heater is ideal for operation in a room up to 35m3.
This heater is technologically advanced and can diagnose the quality of the air in real-time. To help you out, Dyson has an innovative Link App that can monitor the home and make sure the air is pure and quality. The design of the Dyson fan is modern, elegant, minimalist, and bladeless, which makes it not only eye-pleasing but also safer for pets and kids. The minimalist design also makes this device easier for cleaning and maintenance.
Pros 
The fan has heating and cooling option
Technologically advanced to monitor the air quality
Elegant and minimalist design
High-speed heating up
Cons 
Only for smaller areas
Not for icy weather conditions
 Best Value: Delonghi 2400W Convection Heater 
This Delonghi Heater is recommended to be used for rooms up to 60m2. It uses the fan power to heat spaces very fast.
Its design is modern and sleek as all the other mentioned options on the list. This heater as well can be wall-mounted and used as portable. It comes with all the kit you need if you decide to install it on the wall. It has 6 available power levels as well as variable settings for fan speed and 24-hour timer and thermostat which come handy for safety reasons as well as energy efficiency. Very similar to the other models this one as well, has an automatic shut-down function in case of accidental tipping over.
The product comes with a standard 7 years warranty by Delonghi.
Pros 
Good for large spaces
Double fans ensure quick heating up
Seven years warranty
6 power levels
Cons 
The heater uses a fan that can increase the electricity bill.
Buyers Guide on Energy Efficient Portable Heaters
Portable Heaters: Types, Similarities, and Differences 
We intend to advise you and help you make the right decision on choosing the best available portable heater by presenting the most common types with their perks and cons.
The two main categories of portable heaters are gas and electric. In this article, we mainly discuss the electric heaters as the gas heaters may be subject to different law regulations regarding safety and health policies depending on location in Australia.
Regarding the cost of investment electric heaters are regarded as a low initial investment but one that you have to be extremely careful with before you purchase as later they can cost you a lot in the long-run in the context of electricity bills.
Electric heaters convert the consumed energy into heat, and they are said to be highly efficient sources of heating. So, the difference that occurs in energy use comes from different wattage. The more energy the heater uses, the more this will cost you. Another significant difference is the heaters' capacity for heating different sized spaces.
Further on, we will discuss some of the positives and negatives of the main types of electric heaters.
Our first two choices on the list are panel, and convection heaters whose first positive side is that they are highly efficient for bigger spaces, they can easily be managed and controlled, but on the other hand, they made take some time to heat up. So although well designed and they provide even distribution of the heat do not expect instant warmth and heat when you switch them on. However, this is true for the oil column heaters plus on the negative side although portable they are substantial in weight so if you need one that is portable. You plan to move it across the room it is essential to know that these heaters are pretty heavy.
If you are looking for a budget-friendly option and you do not mind the noise, then a good idea is fan heaters which are the most affordable option. On the plus side they can heat up very quickly, but besides being noisy, they are suitable mostly for smaller spaces. The last type is radiant heaters such as halogens, and they can heat up very fast and are efficient only for smaller spaces, but there are many safety concerns and risks of fire, so you have to be extremely careful when you use this type of heater. Never leave it on if you are leaving the room or premise you are heating up.
Your choice will directly depend on the answers to the questions: "How big space do you intend to heat up?" and "What do you intend to use the heater for?"
If you intend to heat a whole room for a more extended period:
If you are planning to heat a whole room for a more extended period, then your choice should be one of the convector heaters. They operate by taking in the air that is surrounding them and warm this air that later circulates the room. Convector heaters can be electric, gas, and oil-filled radiators. They distribute the warm air evenly around the room and work excellently as an additional source of heating. They are suitable for more prolonged use as they have a thermostat and timer so you can control them even if you are not in the room. They are energy-efficient, and they do not overheat the premises just it takes some time for them to heat up.
If you intend to heat a restricted part of a room for a shorter time:
If you plan to use a heater for a part of the room or just a small premise for a shorter period, then you should consider the fan or radiant heater. They heat up quickly and have a more directional way of heating. They cannot distribute the heat evenly around the room and can consume quite an energy which in the long run can make them a more pricy option.
What is the cost of heating by an electric heater?
You can calculate the cost of any electric heater if you know the heater's specifications and the electricity cost depending on where you live in Australia.
The cost of electricity is usually between 25 cents and 40 cents per kWh depending on the state and the electricity tariff. If we take the highest 40 cents per KWh and our first choice of De'Longhi Slim Style, Panel Heater that operates on 2000 wats, we can calculate the cost. First, we need to convert 2000 watts into kilowatts by dividing 2000/1000, which equals 2.
The total cost per hour: 2×0.40$=0.80$ per hour
What about the use of Ceiling Fan for heating? 
An efficient way of heating a room that you can consider is a ceiling fan that can operate on the reverse. The majority of the ceiling fans can have the function of running in reverse that can be adjusted with just a switch. The hot air that is created by heating moves upwards to the room ceiling. When you run the fan on the reverse, this warm air will be pushed downwards instead of sucking in the air. This can contribute to the heating up and warming of the room.
Portable Gas Heaters
There are two different variations when we talk about gas heaters: unflued and flued.
The flued gas heaters require connection to the flue and are typically fixed.
Unflued heaters, on the other side, represent a cost-effective and efficient solution for heating. There are two types of unflued heaters ones that use gas (LPG) tanks and others that can be connected to a home outlet of natural gas.
The disadvantage of this type of heaters is that they release vapour and combustion gasses in the premises where they are placed as they need a flue to discard them externally. What this means is that gasses can adversely influence and increase the allergies and can even endanger the safety and the water vapour can cause condensation issues.
Unflued heaters are allowed to be used only in large premises that possess appropriate ventilation. They are forbidden by legislation for use in bedrooms, bathrooms, small rooms, and premises that have no or have an inadequate ventilation system.
Other resources?
We strongly advise you to check the legislation and guidelines issued by the local state for safe installation and proper use of gas heaters at home. Some of the websites where you can find this information include but are not limited to https://www.esv.vic.gov.au/safety-education/gas-safety-at-home/heating-your-home-with-gas/flues-and-ventilation/#flueless-heaters and https://www.health.nsw.gov.au/environment/factsheets/Pages/unflued-gas-heaters.aspx.
FAQs
How can I make sure that the heater I purchased is energy efficient?
The type of heaters does not play a significant role in energy efficiency but what you need to consider is their wattage and how to calculate the cost per hour is included in this guide in a separate section. What is crucial is the chosen heater to be appropriate for the space that you need to heat up in the context of the size: are you going to use it for heating larger or smaller places. Besides, you can save on energy if the heater has a timer or thermostat so it can be managed easily.