If you are looking for an effective but simple way of cleaning the bathroom tiles, you must try grout cleaning. How to choose the best product for you when there are so many available ones on the market? This is a question that we are discussing today in this article.
The article provides all the details you may need to make a decision which grout cleaner would be the best choice for you according to your particular needs.
1. Grout-Eez Super Heavy Duty Tile & Grout Cleaner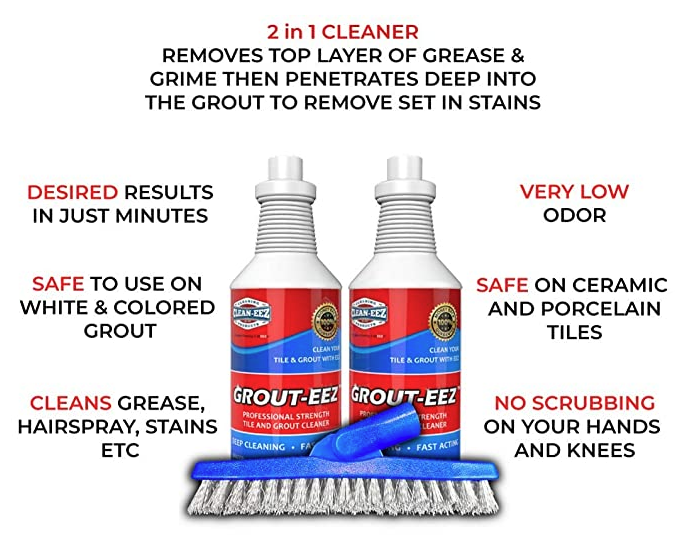 If you are looking for a heavy-duty grout cleaner that has a professional strength, then look no further than Grout-EEZ cleaner by Clean-EEZ product line. The cleaner is highly efficient and can easily remove the stains, dirt, and grease from different types of tiles such as porcelain and ceramic. It comes packed in a bottle, which means that it is convenient for the use of larger surfaces and one bottle should be sufficient for 250 sq. ft.
Additionally, if you purchase two bottles, you get free grout brush that is easy to use, and you can forget all about scrubbing on your knees. Just pour the Grout-EEZ on the tile and for less than 10 minutes using the grout brush to see the amazing results that this cleaner gives in a short time.
Pros:
Highly effective
Comes with a grout brush if you purchase two bottles
Used for heavy-duty grout cleaning
Sufficient for large areas
Comes with 30 days guarantee for money-return policy
Cons:
Cannot be used with natural stone
2. Natural Armour – 30% Vinegar Pure Natural & Safe Industrial Strength Concentrate for Home
This product is one of the natural cleaning products that are extra efficient and do not use any chemicals. It is six times stronger than regular vinegar. This is a cleaner that can be used for many other purposes, and it is not specifically designed for grout cleaning. This, however, is logical as it is a natural solution that can be applied in many situations among which the grout cleaning as well. Additionally, it is also six times stronger deodorizer, and it can be used to remove bad smell such as the one coming from the pet urine and litter box.
It is an environmentally friendly and thus safe product for pets and animals. It also can be used outside. This natural product is packed in a plastic bottle and can be used for larger surfaces. It is best to be utilized when the grout is not that dirty, or it is relatively new and requires gentle scrub from time to time. If the product does not prove well, then the company claims to return a full refund.
Pros:
Affordable
A natural solution that is environmentally friendly
100% full refund if customers are not satisfied with the product
Strong deodorizer
Can be used for many other purposes
Cons:
Does not work well with heavy-duty grout
Might require effort in scrubbing
3. Grout Pen
This option does not belong to the category of cleaners, but it is an efficient option for cleaning and if you are not keen on cleaning but you would like to have whitened grout, and the grout area is not too large, then you must try the Grout Pen. The use of the pen is quite simple. The first requirement is clean tiles, and you can use the Grout pen and draw over the lines. Sometimes there might be a need to repeat the process of drawing over for better results. It is ideal for walls and floor as well, but you must make sure that the surface is completely dry before applying the pen. If you accidentally put paint on the tiles, you can easily remove the paint with a damp cloth.
The Grout pen can be found in different colours. The manufacturer claims that one pen can be used to restore the grout colour of up to 60m2. It is a water-based formula that is not toxic, and after the application, it dries fast. Additionally, it does not have any odour, and it prevents the mould from reappearing due to the anti-bacterial agents.
Pros:
Easy and simple application
Affordable
Can be found in variable colours
Easily removed if there is a need
Non-toxic and does not have an odour
Cons: 
Not practical for large areas
4. CLR Bathroom And Kitchen Cleaner
CLR has been a reputable brand for many years with many quality products. Although not explicitly designed to be a grout cleaner, it is efficient and easy to use a product that helps for the tile seams cleaning. It comes packaged in a convenient for use spray bottle that you can use for spraying the surface that you want to clean. Let the cleaner work for some time and then just scrub it. This is a mild cleaner that can be used efficiently for not so heavy-duty tiles, and the stains are not easily removed by it. However, the fumes can be overpowering, and when you use the cleaner, we strongly advise you to wear a mask.
Pros: 
Versatile and might be used for many various purposes.
Straightforward to use
Cons: 
Powerful fumes
Not specifically designed for grout cleaning
Requires scrubbing
Guide on Choosing the Best Grout Cleaner
Grout Cleaning Options
Dirty grout is not an exception, and at one point in time, we all have to deal with it. Giving up that the grout will never be as clean as it was at the beginning and settling for a filthy one instead is not a solution.
One of the options for grout cleaning is to apply new grouting tiles, or you can try cleaning the dirty grout with a cleaning machine. However, both of the options can be time-consuming and cost a fortune. This is why we decided to look for other less expensive options that are as effective as the previously mentioned ones.
If you have been on a hunt for quality but inexpensive cleaners maybe you can try visiting some of the local Australian stores such as Bunnings, Coles or Woolworths.
Are regular cleaners efficient?
Many may wonder if they can use the regular cleaners for cleaning the grout, and although the answer is yes, one must admit that these cleaners are not that effective as the specialized ones for grout cleaning. The main reasons are the stains that are often stubborn and hard to remove, as well as the built-up dirt or mould, which is usually present at the grout surface. To handle all of this, one would require powerful grout cleaners. However, if the grout is darker or not that filthy, you can utilize milder cleaners.
Specifically designed grout cleaners.
As we mentioned, the general-purpose cleaner can be useful for some grout but cannot guarantee the best results that can be obtained by a specific grout cleaner whose purpose is to clean bathroom tiles. So if there is filthy grout make sure you use the ones designed for this purpose. However, if you have just regular cleaning with no that dirty grout, you can try the general cleaners.
What else is there to consider?
Additionally, what would be nice to consider is the method of application. There are different ways of applying, such as spraying and wiping or scrubbing. This can be especially important if we are dealing with a larger surface such as the floor as we would like to ease the task we have.
Frequently Asked Questions (FAQs)
How do I choose the best grout cleaning product in Australia?
First of all, make sure that the product has been designed for this purpose. The best option is a product in a spray bottle as not only they are efficient, but they are handy and affordable. It takes less than 10 minutes for an effective cleaner to start working and then you can remove the stains, dirt, or mould easily. In the article, we have presented the top five products, so you only have to try one of them and see if it works for you.
What is the best way of cleaning tile grout?
Some of the best ways to clean the grout are the following: a) spray the grout cleaner and leave it for 10-20 min, and then scrub it gently; b) use a special scrubbing tool; c) use a natural mixture of baking soda and vinegar as an effective and affordable option for cleaning that requires bigger effort.
Can I make the grout whiter and what's the most efficient way for this?
One of the ways to clean and whiten the grout is to use the Grout Pen. It is a product that is straightforward to use, budget-friendly and there are many colours that you can choose from in line with the kitchen or bathroom.
Can bleach be used?
Bleach is a powerful cleaner. There are two types that can be applied for cleaning the grout, one is the Oxygen and the second is Chlorine bleach. What you need to have in mind is the fact that the use of bleach can cause corrosion to lots of materials among which tiles as well. So, the advice that we can give is to avoid using bleach as we do not want you to cause damage to the tiles and it is better to use a cleaner designed for such use as grout cleaning.
Is there a natural way of cleaning the tiles?
There are some natural and organic ways of cleaning the tiles, which can be exceptionally efficient if the bathroom is new and has been cleaned regularly and in such cases, there might be no need for strong chemicals. One practical cleaning recipe is a blend of baking soda and vinegar that you can apply on the tiles and leave it for not less than 20 minutes to soak. After this, you can clean the grout by scrubbing it and then make sure you rinse.