One of the best ways to clean hard floors and tiles are the steam mops. However, we all have to admit that it is undoubtedly a challenge to find the best tools among thousands similar on the market. 
That is why, in today's article, we have decided to research for you. And with reliable information, point you in the right direction and present some of the top brands in this field that you can trust and eventually purchase the right mop that suits your specific needs.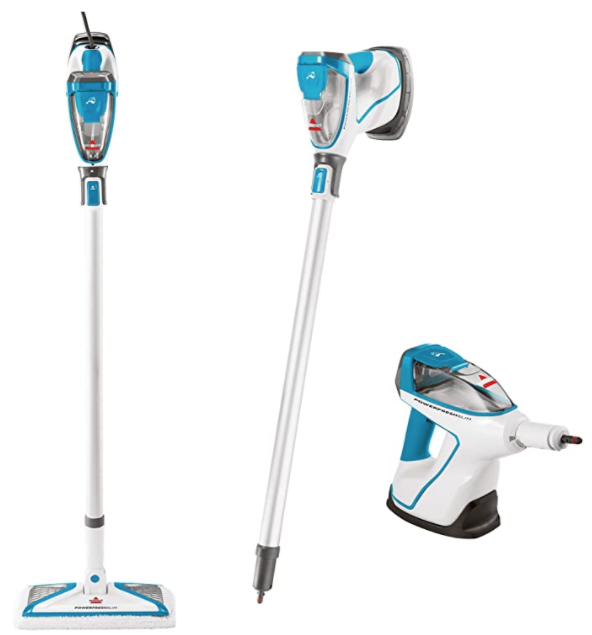 1. BISSELL 1940 PowerFresh Steam Mop, Blue [Recommended]
If you are looking for a straightforward but highly efficient steam mop for more in-depth cleaning, this mop from Bissel might be the right choice for you. It is a powerful handheld steam mop with a sleek design that can be used for several different flooring, including the hardwood, ceramic, linoleum, marble, and granite. It has three levels of steam that differ in the range from small to a larger quantity of steam depending on your needs. As an example, if this is part of your everyday cleaning, then you can use low steam, and if you are for more robust cleaning, then you can select a high steam level. Besides, there is a natural scrubber as part of the mop. If you want a pleasant scent while and after cleaning, you can insert fragrance discs into the mop's pads. 
The water tank can be removed and can be filled with tap water. The manufacturer claims that it kills all the germs and bacteria, so it is excellent for sanitization. After you press the button for temperature, the mop will be ready for use in just 30 seconds as this is the time it takes for the mop to heat up. It has swivel steering, and this makes the cleaning easy, especially for under and around furniture. 
Pros: 
Washable microfiber pads
Three levels of steam
Works on multiple kinds of floors
You can add fragrance discs
Removable water tank
30 seconds for heating up 
Cons: 
Smaller water tank
Some people complain about the cord.
2. Euroflex Compact SC60 Steam Mop 
On the top of the list of steam mops, we have the incredible SC60 from Euroflex Compact. This model reached the top due to its efficiency and ability to be used on different kinds of floorings. It is easy and straightforward to use and will be a great asset to the home cleaning kit. It consists of a base unit that has a water tank so it can be used on wooden and tile floors but also on surfaces that include tiled walls, which are typically not accessible by the other types of steam cleaners. 
The size of the water tank is big enough for cleaning that lasts not more than 40 minutes, which makes this cleaner suitable for larger houses and spacious rooms. Additionally, there is a long hose that is flexible and can bend easily to access all the sports that are usually hard to reach. Some accessories come with the steam mop such as cleaning pads made from microfiber, some extension tubes for better cleaning and brushes.  
Pros:
For different kinds of flooring (wooden, tile, vinyl)
Variable control of temperature and steam
1200ml water tank
The max.temperature can reach up to 130 degrees Celsius
Cons: 
3. Vax Steam Fresh Combi Steam Cleaner
The second position on the list is for the favourite mop of many Australian households or the Vax Steam Fresh Combi. This steam cleaner is popular thanks to its ease of use and the ability to be used on different types of floorings. 
The Vax Steam Cleaner has excellent ergonomic construction and a large head, which makes this cleaner ideal for cleaning larger areas for a short time. The head of the mop has the shape of a triangle, and this is exceptionally convenient for cleaning corners of the room. It can be used for cleaning wooden and tile floorings. It uses steam and detergent as well for powerful cleaning. Also, it takes around 20 seconds for the temperature to heat up, so this means that you will be ready to start cleaning immediately and waste no time in waiting. 
Steam Fresh Combi comes with a bunch of accessories that include an attachment for refreshing of the rugs and carpets, cleaning the windows, oven, and separate bathroom and kitchen surfaces. We are confident that if you opt for this one, you will not regret your choice. 
Pros: 
Ease of use on different types of flooring 
Lots of accessories for cleaning various surfaces 
A mixture of detergent and steam for more in-depth cleaning
Heating time for up to 20 seconds 
8m power cord
Cons: 
The number of accessories can be overwhelming for some people.
4. BLACK+DECKER FSMH1321-XE 1300W 7in1 Steam Mop
This fantastic steam mop comes with seven different functions of cleaning. It is an upright and handheld steam cleaner that is detachable. It comes with a range of accessories that are following the performance and features, such as cleaning of kitchen worktops, tile walls, floorings, windows, sofas, and as a garment steamer. 
Additionally, one great feature is the quick time that is required for the temperature to be achieved, which is an incredible 15 seconds. This mop can save your time by this. The water tank is easy to use and fill. You just need to add some tap water. The mop uses a microfibre pad that can be washed in a machine and the manufacturer claims that the pad should last around 100 wash cycles.
The steam mop does not require the use of any chemicals, but yet it is successful with killing the bacteria and germs efficiently. 
Pros: 
Microfiber pad that is machine washable 
Water tank easily removed and filled with tap water
15 seconds to heat up 
Seven different functions of cleaning
Cons: 
Not very big water tank
Some customers complain that it leaves the floor wet. 
5. H2O HD Steam Cleaner 5 in 1 Multi-Purpose Floor Mop, Window Cleaner, Carpet, and Garment Steamer (Amazon)
This steam cleaner comes from the manufacturer H2O. It is a versatile appliance that can perform multiple tasks and can be used on different types of surfaces. It can be used not only as a floor cleaner but also as a carpet cleaner, and it is safe to use it on glass, windows, and handheld it can also be used as a steamer for clothing. It is truly one of a kind appliance that you can use for cleaning of the entire home. Its versatility is also shown in the fact that it can be used in an upright position, but when you want to use it as a steamer, you have to use it as a handheld. This transformation is natural as it happens with just a flip of a button. The handle can be folded, and the whole mop is lightweight so you can easily manage the cleaning, especially knowing that the cord is 6m of length. 
The power is 1500W, and this steam cleaner is said to eliminate all the germs and bacteria. Its water tank is with a considerable size of 450ml, and it is easily removable for filling and refilling. There is a digital control for adjusting of three levels of steam and built-in water filter. It takes only 25 seconds for the temperature to be reached and the mop to heat up. Additionally, some accessories can be used effectively. The mop head is also great for maneuver as it can be turned around 360° degrees.  
Pros: 
5-year warranty 
Digital control 
450 ml water size tank
It takes only 25 seconds to reach the temperature 
360 degrees smooth maneuver head of the mop 
Powerful with 1500W
6m cord  
Cons:
Some customers complain that it leaves too much water. 
It can come with a few floor pads. 
Buyers Guide
What type of floor is it? 
Before you start looking for the right product, make sure you consider the type of floor in your house. It is vital that you are aware that not all models are designed to be equally useful for cleaning laminate and tile floors. Although there are such universal mops that might work with the same performance on various types of flooring, we strongly suggest that you read the specifications and instructions of use given by the manufacturer. And see if the mop works only on sealed hardwood floor or it can be used on other types as well. 
The design of the steam mop
There are various designs of the steam mops that often suit different needs. As an example, there is a carpet cleaner that utilizes steam power, and this although efficient, cannot be used for cleaning the whole house. On the other hand, there are handheld steam cleaners that are affordable, and you can use them with one hand as they are compact and straightforward for use and that can be used for certain types of flooring. They even can be suitable for cleaning after the mess at home often created by pets and kids but again not for the entire house. The third type of cleaners are the cylinder ones that can be used for complete cleaning of rooms, and they consist of a cylinder and wheels so, at first look, they resemble the vacuum cleaners especially as they have an attached hose to the top. So before you purchase the mob, make sure that you know where and what for do you want to use it. 
Size of the Water Tank
If you are purchasing a steam mob for deep cleaning, especially, another vital feature that you would like to consider is the water tank size. Those which have larger water tanks can be used for cleaning bigger spaces and more rooms. This means you would not be forced to interrupt the work all the time to refill the tank. On the other side,  if the mop has a small tank, you would have to refill it always when using larger areas, so those might be more suitable for smaller rooms. 
Length of the Cord
Regardless of the kind of steam mop and what kind of surface it will be used for, it is advisable to check the length of the cord. This can be vital if your home is spacious and the rooms for cleaning are with a bigger size. 
Flexibility of hoses
The steam cleaners that are used for cleaning floors are equipped with flexible hoses. Their flexibility contributes to the ease of use, and the ability to bend makes the cleaning possible even under areas that are hard to access, such as furniture or around or under different kinds of obstacles.  
Can you control the temperature and level of steam? 
A feature that adds to the quality of steam mops is the control that you can use to manage the steam level and level of heat. In this way, you can begin with the temperature at lower degrees, and you can gradually raise the temperature along the process of cleaning. 
How long does it take to heat up? 
The time that it takes for the steam mop to reach the desired temperature is essential, and you should take notice of this. The models that are used for commercial cleaning are designed to achieve the desired temperature for less than a minute, and this saves precious time for people who clean. However, for the ones that are used for cleaning at home, it might take several minutes until they heat up.  
Pads made from different materials 
Some of the steam cleaners, especially the ones used for laminate flooring use pads made from microfiber or other material that does not cause damage to the floor and helps in cleaning the debris.