Laundry is one of those things that you cannot avoid but simply find the best and easiest way to deal with it. A reliable and useful quality washing machine that features top performance and has a suitable load capacity can ease your life and contributes significantly to the clean and professional look.
To help you make the right choice on the best top loader according to your requirements and needs, we researched the laundry market and came up with these five top-loading washing machines that proved to be with the best performance and quality that guarantees a long lifespan.
1.Fisher & Paykel 10kg Top Load Washer WA1068P1 
Fisher & Paykel has been a reputable brand name in the laundry industry and in this section of top loaders, Fisher& Paykel present the impressive 10kg WA 1068P1 model.
One of the best features is that it is extremely energy and water-efficient with 4 stars rating washing machine ad this means that not only you will have impeccably clean clothes, but you will also save money with the reduced water and electricity bills.
There are 12 wash programs to choose from, and one of the functions is Eco-Active Wash that uses a combination of warm water and pre-soaking after which the garment is agitated, and cold water is additionally added. All the different settings among those 12 wash programs guarantee superior performance. There is allergy protection, sports clean, bedding, hand-wash, and wool programs so you can wash almost any fabric with this top loader.
It has a great design that features a fantastic lid from glass that is scratch-resistant. There are no loud vibrations during the operation. The load washer has a 2-year warranty.
Pros 
Water and Energy Efficiency with 4-star ratings in both
SmartDrive Technology
Load-capacity of 10kg great for families
12 wash program
The spin speed of 1100rpms
2-year warranty
Cons 
2. LG 8.5kg Top Load Washer WTG8521 
The LG top loader is an excellent washing machine for medium-sized families and couples. It has an 8.5 kg load capacity and no agitator but features a TurboDrum. This means that it is designed for the drum and the plates to move in the opposite direction and thus make the washing efficient. One can choose among seven wash programs which include cotton and pre-wash program that is used for the most stubborn stains removed with agitation and soaking.
There is a glass, transparent lid that has an excellent mechanism for soft closing. This prevents accidental slamming of the door. If sometimes you have an issue with the LG washer, LG has developed a smart app that has diagnosis function that you can download on mobile phone and try to troubleshoot the problem, which is very convenient and helpful in small failures to detect the problem without having to wait for the technician.
This machine is a compact, practical, and hassle-free solution for middle-sized families. However, the spin speed of 740RPM is not high speed, and the energy rating of 2.5 stars is also disappointing.
Pros
7 wash programs
Excellent load capacity for middle-sized families
TurboDrum
No agitator
LG developed detection app
Cons
Low energy rating
The low spin speed of 750 RPM
3 stars water rating
3.Samsung 8.5Kg Activ DualWash Top Load Washing Machine WA85N6750BV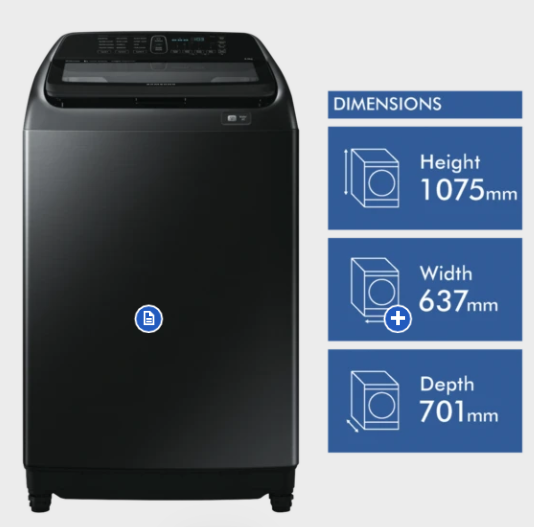 Samsung presents its Activ DualWash top loader, which is the perfect size for families with its load capacity of 8.5 kg. This top-loader features 12 wash programs, including drum clean and super clean function for heavily soiled garments. It has a 4 stars rating in water efficiency and 2 stars in energy efficiency. The LED control panel displays all the features neatly.
One unique feature is the built-in sink with a water jet that can be used for hand-wash of delicates and pre-treatment of stains before the garments are put in the drum. When you have completed the process of pre-washing the water from the sink is dropped into the drum. Due to the Magic Dispenser, the ActivDualWash dissolves the water and the detergent by forming a vortex, that adds to the top performance and efficiency in washing. This machine also features two Magic Filters that are detachable so you can easy clean and maintain them. The filters collect all the fluff or lint from the garments put for washing. This makes the machine an excellent option for pet owners.
Samsung offers a 2-year warranty and 11 years warranty on the parts. It comes with a digital inverter motor that makes the operation less noisy and without vibrations. Additionally, there is a monitoring system developed by Samsung called Smart Check that can detect some issues that might occur within the operation and even give some troubleshooting solutions which can be quite handy.
Pros
12 programs
Smart check function
Built-in sink for pre-wash and hand-wash
11-year warranty on parts
Magic Filters
4-star water efficiency rating
Cons 
The low spin speed of 720 RPM
Energy star rating 2
4. Simpson 7kg EZI Top Load Washing Machine SWT7055LMWA
With a 7 kg capacity, this top loader is suitable for couples, singles, and small-sized families. The EXI set controls are right on the top of the machine, and you can use those for choosing the desired program from the 11 available ones ranging from heavy-duty to bedding cycle. Additionally, you can customize the level of the water, temperature and the rinse option.
The machine consists of an agitator and stainless steel drum that ensures the garments or bedding are treated with the utmost care while being washed.
One unique feature of the EZI tope loader is the Time Adjust function. In our everyday busy lives, this feature comes handy as it allows you to choose the time of washing and the delay end feature, you can determine the time for the load wash cycle to be completed.
The machine comes with a standard 2-years warranty and 3.5 stars water efficiency, and it is a simple yet reliable choice.
Pros 
Delay end
Time Adjust Function
11 Programs
Affordable
Cons 
5.Fisher & Paykel MW513 QuickSmart 5.5kg Top Load Washing Machine
This machine comes from the Fisher&Paykel QuickSmart series. It is a top-loader with a small loading capacity of 5.5 kg, which makes it particularly suitable for singles and small apartments due to its compact size. We chose this machine to be one of the top five because of its useful features.
Regarding the programs, there are four different wash including delicates and wool programs according to which there are various settings for the spin speed, cycle, and temperature, which change automatically and you can also adjust them manually. This machine has an agitator but has reduced noise as there are flexible fins on it, that tumbles the clothes. The washing detergent is put in the agitator inside under the top, so it mixes with the water and does not leave any residue or marks on the clothes. The machine uses SmartDrive Technology consisting of three main parts that contribute to efficiency.
From the safety features, it has a lid lock while the machine is in operation; it prevents the lid from opening. The machine, however, is not energy-efficient and it has a rating of 1.5 and a water-efficiency rating of 3 stars.
Pros 
SmartDrive technology
2-year warranty
1000 RPM
Compact size
Cons 
Low stars rating in terms of energy-efficiency and water-efficiency
Noisy
The agitator can twists clothes.
What to consider when buying a top loader 
Top loading washing machines compared to the front loaders have three essential benefits: they are easy to use, they have a large capacity and short washing cycles.
In recent years the technology has advanced significantly, and this has also reflected in the development of the design and features of the top loaders. With so many models on the market, how do you know which one is a good purchase? Read further and find out which features are a must-have for a top loader to be considered a good one.
High-Efficiency vs. Agitator Top-Loaders
Most of the top loaders in their inner central part have a vertical column that is called an agitator. Its function is to rotate in both directions throughout the cycles of washing, and the purpose is to agitate the clothes and thus improve the efficiency of washing clothes.
Top loading washing machines that have agitators are often the most affordable ones on the market. They are also energy-efficient models due to the shorter cycles and very efficient when it comes to cleaning heavily soiled clothing. To achieve even better results, we advise soaking the clothes with stain remover before you put them for washing.
On the negative side, these machines with agitators are not that water-efficient. Besides being noisy, they can treat the fabrics tougher, and the results are shorter wear and tear of the clothes and stronger possibility of damage.
Compared to the top-loaders with agitators, the high-efficient ones do not have an agitator. These machines have a great energy rating for efficiency and water-efficiency. Additionally, they feature large capacity. However, the high-efficiency loaders have longer washing cycles and feature deeper buckets whose bottoms can sometimes be hard to reach.
Most important features to consider
Capacity & size of the Top loaders
Most of the top-loading machines have a capacity between 6kg and 10kg. For most singles and couples this range should work fine, and for families, it is much better and secure to choose one of the models that are 10kg+. Before you start looking for the perfect top loader for you, make sure you measure the laundry space as dimensions and shapes differ much from model to model.
Energy Efficiency
The energy efficiency of one washing machine can be checked on the energy rating label that is mandatory for each washing machine in Australia. This can be helpful, especially when you have two devices with very similar loading capacity or functions. One thing to have in mind when you make the comparison is that you can compare only machines that have the same size.
The range of energy efficiency regarding the top-loading washing machines varies from 1.5 to 4.5.
Performance and Functions
When it comes to performance what you need to take into consideration is the cycle time, although these machines are known to have a shorter time for washing in general, as well as the number of functions, which on the other hand are fewer. The noise generation is typically a problem for these machines, and you also have to be aware of this as an issue. The extra features that can help in proper treatment of the fabrics can be ensured with spin and temperature settings, rinse cycles, and related.
Top Load Washing Machine FAQs
What is the difference between the top loaders and front loaders?
As the name suggests the top loader machines open only from the top whereof, you can load them with clothing. The devices can be opened at any stage of the washing process to add garments which are convenient when you forget some of the items that require washing. You should not worry about the water spill-outs due to the top position. The top loaders are more affordable than front loaders. They also have a bigger capacity for loading and shorter wash cycles.
On the other hand, front loaders are more energy and water-efficient compared to top loaders. They are compact, and with a smaller size that can fit in limited living spaces so additionally, you can combine them with dryers. The front-loading machines have more functions and settings, so you can customize and control the process of washing more.
What are the essential features to look into an excellent top loader washing machine?
We have discussed this question in more details in the article but once again what you should be very careful about is the water and energy efficiency. You can check this efficiency on the label which is attached to every washing machine sold on the Australian market. Although the ones that have higher ratings may cost more at the beginning, they will surely save you time, energy, and money in the long term. Make sure that the features that are on the top loaders are suitable for you and the garments and items that you have, regarding the fabrics and the required care. Top loaders are efficient but sometimes can be tougher on textiles, especially the ones that have agitators. These washing machines are noisy when in use, so make sure you take the noise level into consideration as well as the place where the device is going to be located when investing in a top loader machine.