Bathroom Scales are deemed the most convenient way to observe your weight loss success and keep track of your overall health. However, it is not so easy to find the scale that is best for you as there is a wide range of options on the market.
In this article, we go through market offers that range from high tech provides that can be even connected to your smartphone, to simple models which are designed to just measure your weight and keep track of it as you follow the journey of losing weight.
Renpho Bluetooth Body Fat Smart BMI Scale (Recommended)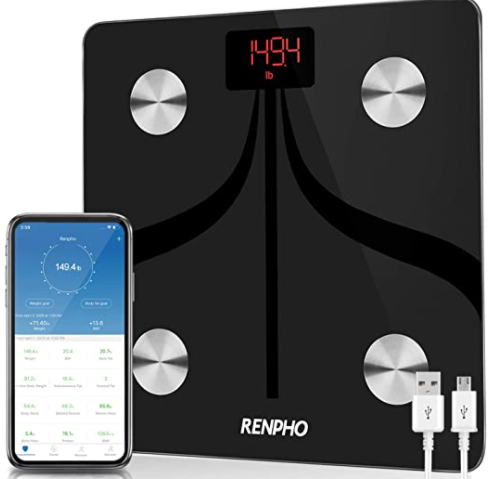 The Renpho Bluetooth Body Fat Scale uses the latest technology to generate 13 key metrics to help you track your progress on an app. You can track basically everything, from BMI to water retention, even muscle, and bone mass.
You can synchronize it with several fitness apps to carefully observe your progress. The Bluetooth connection is handy and lets you save and share your data on different social networks and similar apps.
The LED-lit display is visible and bright enough to allow easy reading of the data.
Pros:
It tracks to a maximum precision a total of 13 significant body metrics.
There's no limit on the number of users who can use the scale.
Sleek, modern design that can be suitable for any decor.
Cons:
There have been reports that the metrics fail to synchronize with the apps.
Some users don't like the fact that they have to input personal info to use the scale.
2. EatSmart Precision Digital Bathroom Scale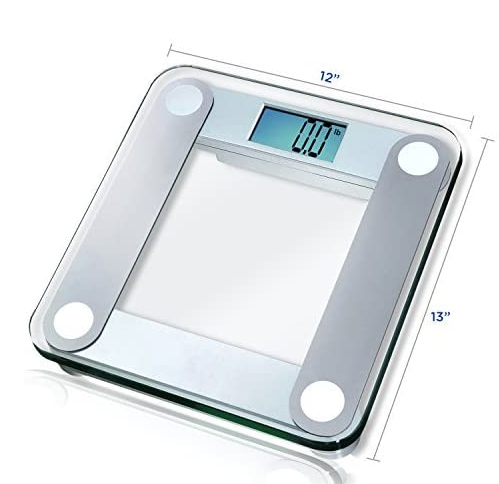 EatSmart is a company that has been trying to bring forth top-notch healthcare products that provide customers with substantial help to lower their weight and live healthily. The display of the scale is easy to read as is it has a blue backlight and an LCD screen. It looks stylish and modern, so it can be a good fit for any bathroom.
The patented, one-step technology of Eat Smart allows users to use the scale effortlessly. The only thing you need to do is step on it and read the measurements. Eat Smart has been designed with high gauge sensors that provide accuracy to 91g.
Pros:
Instant readings once the user steps on it.
The scale is very durable, large and able to hold up to 200kg.
Thanks to the four calibrators, it delivers very accurate readings.
Cons:
You need to be careful where you position the scale as some slightly uneven floors can deliver wrong measurements.
It lacks some of the features the more advanced scales offer.
3. Fitbit ARIA 2 wi-fi Smart Scale
The Fitbit Aria 2 is one of the scales that are highly popular on the market due to its practicality, numerous available measurements, and the outstanding app that can track and record the data. The Fitbit app is easy to install on your phone or another smart device, which means a wearable Fitbit device is not necessary to access the data from the scale.
There is an option for multiple users, and also there is a setting for guests who can just step on the scales and get their weight. This mode lets them see their measurements, while at the same time, it can recognize they haven't been registered as a specific user so the data won't be stored.
When it comes to specific measurements, you can track your weight, BMI, lean mass, body fat percentage, and more. Made from stainless steel in combination with glass, it looks modern and stylish.
What makes the Aria 2 unique is the way it displays the data. It has never been easier to track your progress when multiple measurements are followed thanks to the easily comprehensible graphs and charts that the handy Fitbit dashboard displays.
Pros:
Long-lasting battery life.
The dashboard is easy to read, particularly when it comes to a variety of metrics.
It is multifunctional, looks excellent, and it gets synchronized with smart devices.
Cons:
It is pricey.
It needs the Fitbit app to access your data.
4. Nokia Withings Body+ Body Composition wi-fi Scale
The Nokia Body + Black Body Composition wi-fi Scale is one of the most advanced models on the market as it has been made with the patented Position Control technology to deliver perfectly accurate readings that refer to the overall body composition.
Unlike many other scales, this model has the capacity to pair with more than 100 fitness apps which makes the whole weight loss tracking process more straightforward. This helps users easily reach their goals and follow their progress. Once you are on the scale, you'll immediately see your readings as it doesn't need any warm-up time.
Regarding its design, it is sleek and modern, and it comes in different color varieties to blend in with the interior.
It's a device that can be used by the whole family since it features Baby Mode for toddlers and small children and Pregnancy Mode for expectant mothers.
Pros:
It is Wifi-enabled so that you can synchronize readings with fitness apps.
The integrated smart technology provides a daily weather forecast.
It can recognize up to 8 users.
Nutrition tracking informs users about the nutritional value of their food choices.
Cons:
Some users have reported data transfer failure to the apps.
It might be challenging to connect it with your wi-fi
5. WEIGHT WATCHERS Body Balance DIAGNOSTIC SCALE
The Weight Watchers Body Balance Diagnostic Scale is mainly designed to provide help to users who follow their Weight Watchers plan so that they can conveniently track their success rate on the app. It is a Bloothoot smart scale that works together with the Conair app that makes the process of monitoring your weight easy-to-follow, fun, and awarding as users get badges and awards for progress.
The scale has a memory for ten users, so your family and friends can take advantage of it. It has the capacity to measure up to 182 kg or 400lb, and weight can be displayed in kilograms and increments. The screen is large, bright, and easy to read. You can read your BMI, bone mass, body water, body mass, and body fat.
Pros:
Reads five metrics: it's fun and easy to use.
It gets connected through Bluetooth and works with an app.
It comes with a 10-year warranty.
Cons:
Some users said that they had problems connecting it with certain phone types.
Metric readings showed some inconsistencies.
6. Withings Body+ 
Withings is a brand that has been among the most popular when it comes to the global scale market. Body + delivers your measurements instantly with a perspective on your body health. It comes in a sleek, slimline design that works on hards floors as well as carpet.
By its looks and its performance, it is a high-end bathroom scale that can measure the following with an ultimate precision:
Fat Mass – you can see if there is extra fat in your body and the amount of it.
Muscle Mass – being aware of the muscle mass will help you adequately choose your diet.
Water Mass – this option allows you to track the percentage of water in your body, the level of hydration, and weight fluctuations based on the water level.
Bone mass – the elderly, and women need to be aware of their bone mass so that they can act swiftly in case there is a sign of osteoporosis.
Weight – very accurate weight measurements
Heart rate and BMI
These wi-fi scales sync with an Apple wearable and are also compatible with a variety of other health and fitness apps such as Apple Health, Google Fit, or Fitbit.
Pros:
It provides a wide range of readings.
It has a sleek, modern design that can easily fit in your interior.
It can be used on both hard floors and carpet.
Cons:
It is pricier than most of the models.
7. Tanita Scale BC587 
Tanita can be called a veteran in helping people live healthier lives as since the 1940s it has been developing its products. Therefore it is known as a world leader when it comes to electronic scale development.
The Body Tanita Scale is designed to provide detailed measurements of the overall health of the user by considering ten measurements with the help of four electrodes.
It features an advanced, inner scan technology and its own app to help track your progress. The screen is crisp, very readable and there is a blue backlight.
Pros:
It measures weight, BMI, hydration, muscle mass, and more.
It has highly developed InnerScan Technology.
It has an extra capacity of up to 200 kilos.
Cons:
It does not sync with other health or weight-related apps.
Bathroom Scales Buyers Guide
It's Not All About Weight
Most people who have been trying to lose weight realize that it is not the only goal, and the success is not measured or determined by just dropping off some pounds. Understanding the influence of other body composition metrics such as water retention, body fat, and BMI is imperative to reach your goal.
There are plenty of scales today that offer high tech features to help users get an overall insight into their body composition and track their overall health. These smart bathroom scales come at a higher price, so if tracking bodyweight only is your only priority, then you should consider a less expensive model.
Tracking Apps
If a scale is a wi-fi or Bluetooth enabled, it means that it can get synchronized with appropriate apps so that you have a consistent data observance and you can even share the progress with friends on social networks. Some people consider this possibility as a great booster in their fitness plans, but others feel reluctant to share their personal data with unknown people.
The ability to see the way you progress, allows you to better adjust your habits and see if they affect your fitness goals.
Accuracy
Accuracy is the most crucial feature that a scale needs to have. No matter how many measurements it delivers, if they are incorrect, then everything is in vain. The scale is expected to track your weight accurately within 1 lb consistently. Failure to do so, or in case you notice a shift of a few pounds within the same day, it is an indication that the scale needs to be tuned by the manufacturer.
The greater consistency in the measurements the scale has, the better results you'll have when tracking your goals.
Style & Design
The way scales look has considerably evolved from the traditional bulky models that you often see when visiting your grandma or a doctor's office. Now they are sleek, pleasant to look at and fit in well with your overall decor.
The materials they are made from vary as well, from glass, plastic to stainless steel. Many of them come in a variety of colours too, so that they can easily blend in with your style.