Making rice is not a complex cooking skill and most people know how to do it. But while it is a simple task, there are things that can go easily wrong. Whether you add too much water or leave it cooking for too long, sometimes you might end up with muddy and overcooked rice.Even though buying a rice cooker might seem like an unnecessary luxury, it removes the possible hiccups from the equation and makes rice cooking effortless. Which means less time standing at the stove and perfect fluffy rice for dinner.
Apart from making perfect rice, a good rice cooker is easy to use and clean and can do some other cooking tasks like steaming veggies or dumplings.
The Rice Cooker Zoom in
While a rice cooker can seem like a nice-to-have kitchen gadget rather than an essential purchase, most people agree that once you get one, you cannot go back.
We've looked at rice cookers that have been tested by CHOICE experts and the customer reviews at productreview.com.au to see how the rice cookers did in Aussie kitchens.
The rice cookers range in price and functionality and while some can only cook rice, others have functions that go way beyond that, able to tackle steaming seafood or cooking quinoa. 
What are Australia's best rice cookers?
The 5 Best Rice Cookers in Australia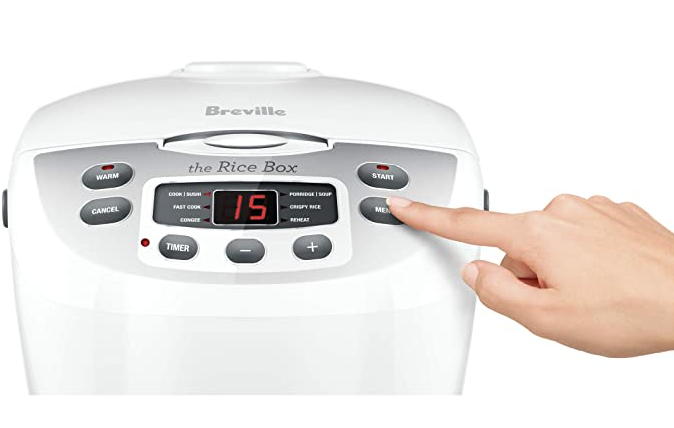 Our Winner – Breville The Rice Box
Our Winner – Breville The Rice Box
If you're looking for a rice cooker that can do more than just cook rice, Breville The Rice Box is for you. What are some of the features that make it stand out from the crowd?
Multifunctionality
This is one of the biggest perks that this rice cooker provides. It features 6 different settings, depending on what you're cooking, it can make steamed rice, congee, sushi, crispy rice, sushi, porridge and even soup.
Apart from that, it comes with a stainless steel steaming tray that allows you to steam veggies, seafood or poultry. 
Capacity
With its 10-cup capacity, that makes 20 cups of cooked rice, this cooker can feed the whole family. If you don't plan on cooking such large quantities, the minimum it will take is 2 cups of uncooked rice.
Fast Cook Setting
Cooking rice in a rice cooker isn't a fast process. The main reason for using one is convenience rather than speed. Normally, two cups of brown rice take around 55-60 minutes to be ready. Breville The Rice Box features a "Fast Cook" setting for those times when you're in a rush. 
The difference is not massive and it can only be used for white rice but it knocks around 5 minutes off the cooking time. Which means you can have 4 cups of fresh rice ready in 25-30 minutes.
Smart Features
This rice cooker can sense when the rice is done and it automatically switches to "Keep Warm" setting which prevents overcooked or burnt rice. Then it can keep the rice warm for 24 hours before it shuts off. 
You can also program it for certain finished cooking time, up to 15 hours in advance. So you can have fresh rice ready as soon as you come home from work.
What's Included?
It comes with a non-stick cooking bowl that ensures easy cleaning, a steaming tray, a measuring cup and a plastic serving spoon. It also features a fixed lid that prevents spilling. It comes with a 1-year warranty, good reviews and an RRP of $109.95.
Negatives to Keep in Mind
The fixed lid can be seen as a negative as well since you have no idea what's going on inside and you have to fully trust the cooker. Also, because it's non-removable, it can be a hassle to clean. The 1-year warranty is expected but it would be great if it was longer. 
Our Second Best Choice – Panasonic SR-DF181WS Rice Cooker
The Panasonic SR-DF181WS offers a little bit less than our Breville winner for a higher price, with RRP of $129. That's not ideal. It is compact and easy to use and offers the same 10-cup capacity.
Functionality
This rice cooker comes with 4 basic cooking modes: white rice, brown rice, quick-cook/steam and porridge/ soup. These are controlled through large 1-touch buttons that are easy to use, and basically fool-proof. 
It is quick with white rice and you can have it ready in 30 minutes.
Fuzzy Logic
The most interesting feature of this rice cooker is "fuzzy logic" which can automatically adjust the power and time in order to cook the rice perfectly and then keep it warm for 5 hours. 
This feature ensures that even when you add too much/ too little water, the result is still going to be perfectly cooked, fluffy rice, making the rice cooker even more convenient.
What's Included?
The rice cooker comes with the standard measuring cup, 1-year warranty and a sealed lid that prevents spilling. It also features a steam basket which is useful steaming small things like dumplings or vegetables. The cooking bowl is non-stick which makes the cleaning a lot easier. 
It has good though limited reviews and decent versatility and functionality. This is the easiest rice cooker to use, it is compact given its 10-cup capacity and the only rice cooker that is driven by fuzzy logic that adjusts the power and cooking time to ensure the best result. 
Negatives to Keep in Mind
The fool-proof buttons and the design can be seen as a negative. Not everybody is a fan of the big buttons that seem child-like and unsophisticated.
This rice cooker is not programmable like the winning competitor, so you can't set it to cook later. There is also no LED display or an end sound, so it's easy to forget about the rice.
You don't get a rice cooker for speed but for convenience but brown rice in this one can take up to 2 hours. So if you know this is what you'll be using the rice cooker mainly for, it might be a deciding factor not to consider it. 
It comes with a 1-year warranty which is expected but not impressive. 
The Rest from the Best
Breville Set & Serve 7 Cup BRC310
Smaller 7-cup capacity rice cooker Breville Set & Serve 7 Cup BRC310 is our second most affordable rice cooker from the list, with RRP of $69.95. 
While the cheaper price results in less functionality, it can still manage all the essential tasks. Apart from cooking rice, it has up to 5-hour auto keep warm feature and comes with a stainless-steel steam tray that can cook vegetables, seafood or poultry, 
It has a removable cord which makes it easy to serve the fresh rice at the table. It is also easy to clean because of its non-stick cooking bowl.
Contrary to the competitors above, it has a removable glass lid that can be convenient in order to keep an eye on how your food is doing but also increases the chances of spilling. 
The rice cooker comes with a standard 1-year warranty and good customer reviews. The main advantages are the lower price, simplicity of use, easy cleaning and the glass lid, while still maintaining good basic functionality.
Breville the Multi Grain BRC550SIL
Breville the Multi Grain BRC550SIL rice cooker is ideal for those who want a versatile cooker that can do more than cooking rice. It can make a creamy oat porridge, fluffy quinoa, lentils, stir-free risotto and even has a sauté/sear setting. This almost makes it a slow cooker.
It is the only rice cooker with a sauté function. It can brown and caramelise onions, meats and mushrooms to deepen the flavour. 
It has a 10 cup capacity and can keep your food warm for 5 hours when cooking rice and up to 30 minutes for risotto. Then it shuts off automatically after that.
It also comes with a steaming tray, dishwasher safe lid, 1-year warranty, a measuring cup but no serving spoon. The customer reviews are limited and middling but with its ability to cook a range of grains rather than just rice and other functionality, at RRP $99.95, it's a great deal.
Kambrook Rice Express KRC5 / KRC8
The Kambrook Rice Express KRC5 / KRC8 is the cheapest rice cooker we've reviewed, priced at an affordable RRP $39.95. 
It has 8 cup capacity and all the basic features. The functions 'Cook' or 'Warm' are accessible through one-touch easy to use operation. 
It also includes a steaming tray which allows you to steam fish and vegetables, and therefore, ticking all the boxes that you'd expect from a rice cooker's functionality. 
Similarly to the Breville Set & Serve, removable glass lid that lets you peek inside and a non-stick aluminium cooking bowl makes the cleaning process easy. 
It comes with a measuring cup, a serving spoon, a steaming tray and a 1-year warranty. While it is not reviewed by CHOICE and the customer reviews are mixed, it is a great functional rice cooker for those on a budget.
Factors to Consider Before You Buy
With microwavable rice pouches being cheap, popular and readily available, buying a rice cooker doesn't seem like a necessity. But it can make rice that is much more flavourful and fluffy than the one coming from a pouch. 
The range of functions and its ability to perform other cooking tasks are other reasons that make rice cookers a good investment.
If you decide to buy a rice cooker, what are the features to consider in order to choose the right one for you?
Basic Features
Capacity 
The standard capacity of rice cookers is 7-10 cups that prepare up to 20 cups of cooked rice. The bigger ones are perfect for family dinners and while smaller ones can be more compact. Keep in mind that the minimum that you can use the rice cooker for is usually 2 cups of uncooked rice. 
Easy Clean
The rice cookers that have a removable lid and a non-stick cooking bowl make the cleaning process easier. 
Auto Keep Warm
This function prevents overcooking and ensures once the food is ready, it stays warm for 5-24 hours. All of the rice cookers above have this function, but the time varies.
Fuzzy Logic
Fuzzy logic will work out whether you've added too much water and adjust the time to ensure that the rice still cooks perfectly. Only the Panasonic SR-DF181WS includes this feature though.
Lid Type
With the removable glass lid, you can see what's going on inside and it's easier to clean. But it also means the food can rattle, bubble up or splatter. 
The non-removable lid is usually not transparent and harder to clean but the food won't spill. 
Cooking Modes 
Some rice cookers are not limited only by the rice but you can cook quinoa, sauté mushrooms or steam dumplings.
Accessories
They usually come with a steaming tray, a measuring cup and a plastic serving spoon that won't scratch the surfaces. 
An Alert
Not all the rice cookers come with an alert that lets you know when the process is done which makes it easy to forget about the rice.
Warranty
All of the reviewed ones and most of the rice cookers come with a 1-year warranty. 
Advanced Features
Quick Cook Mode
Using a rice cooker is not faster than the stovetop method but it requires no monitoring or stirring. If the cooking time is important to you, some rice cookers are faster than others and include a "quick mode" feature. 
Digital Timer
This useful feature allows you to program the cooking ahead of time and you can have the rice ready for when you come home from work. Only the Breville Rice Box winner has this. 
The Verdict
Using a rice cooker doesn't make cooking rice faster but easier. They are simple, easy to use, and easy to clean. Our best pick is Breville The Rice Box that is multifunctional and programmable. The Panasonic SR-DF181WS is great too, simple to use, more compact and includes a fuzzy logic feature that makes cooking the perfect rice even easier.